ASE is a creative management group dedicated to
design,
development, management, and marketing of unique
action sports, recreation, & entertainment projects worldwide.


FEATURED USA DEVELOPMENT...
ASE WinterSportZTM Park


Year Round Snowboard & Ski Centers
Across America


Contact ASE to discuss investment opportunities.


ASE's new EXTREME STEEL MOUNTAIN project-
The stand alone mountain you can build in your own city!



REAL SNOW by ASE (The SNOWMAKER TRUCK) for
RAIL JAM TM action sports series
SNOWMANIATM


MODA3 BOARDFEST September 30, 2006 Downtown Milwaukee
ASE's SNOWMAKER TRUCK produced tons of real snow for this event.



Sunburst Ski Hill, West Bend, WI -RAIL JAM TM Series '05
Even if its 90 degrees F., ASE can blast real snow into your event
with The SNOWMAKER TRUCK -800 lbs. of snow per minute! Yeah baby!
Contact ASE to discuss our RAIL JAM TM action sports events!
SPONSORS WELCOME-Contact us!


SKIPRESSWORLD
All weather snowmaking event specialists Sturm have launched a new venture
called All-Season Extreme which aims to bring the British built artificial slope
surface Snowflex to US installations. All-Season Extreme has a creative
management group dedicated to design, development, management, and
franchising of unique action sports, recreation, and entertainment projects
worldwide.

Snowflex(tm) is a polymer composite, comprising a monofilament fibre and
impregnated carrier layer. This sits on top of a unique shock layer, giving an
authentic responsive and reactive feel. Manufactured in a tile form, Snowflex
forms a homogenous surface, and can be cut and formed into complex features
and shapes.

"It is our intention, through Snowflex centers, to change snow sports activities
from being rare treats for the affluent enthusiast to accessible, safe, exciting
pastimes for everyone, family or individual," said Dieter Sturm of All-Season Extreme.
Project costs for completed basic slopes range from US $1 million to US $3 million.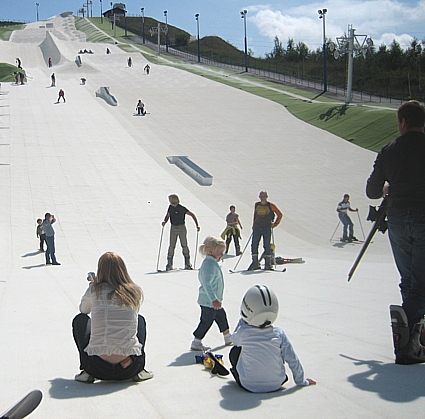 SAMPLE THE ACTION!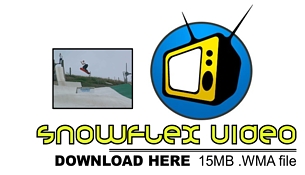 Seen on the DISCOVERY CHANNEL -"Frontiers Of Construction"
File is LARGE-- approx. 15 MB Download time will depend on
on fast your internet connection is.
.WMV format
DOWNLOAD VIDEO HERE
Best viewed with Windows Media Player

WATCH THE NEW SNOWFLEX VIDEO
FROM FRANCE -"Check Out THIS Slope!"
DOWNLOAD VIDEO HERE
File is LARGE-- approx. 18 MB
.MP4 format






ALL-SEASON EXTREME

PO Box 691, Lake Geneva, WI 53147


1-262-949-9068



Information LINKS About SNOWFLEX*-
Snowflex USA Website
Briton Engineering Developments -UK